We here at ecAmusements have a variety of brand new bar top arcade machines in stock on a regular basis. We have each brand new bartop Jamma wired cabinet CNC cut and assembled with all new parts. Whether you like the original Street Fighter, Tetris, X-Men or others we have the right one for you. All of our games have new artwork installed. Check out our current inventory below! If you have any other questions feel free to CONTACT US with and questions you may have! Our direct line is: 484-433-5145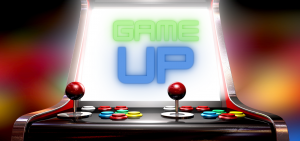 This arcade can be wired to plug and play the 750 Arcade Gameboard
CLICK HERE FOR 750 GAME LIST 
This arcade can be wired to plug and play the 999 Arcade Gameboard as well
CLICK HERE FOR 999 GAME LIST
Every brand new cabinet has a 17″ LED monitor installed with an option to upgrade to a 22″LCD upgrades for an extra $200. The standard is wired for a Jamma board that works with the 750 jamma board or an upgrade to accept the 999 game board as well for an extra $200. This cabinet has BRAND NEW JOYSTICKS, BUTTONS, JAMMA WIRING HARNESS, LCD MONITOR, SMOKED PLEXIGLAS, and T-MOLDING. This machine is set up for free play only. It plugs directly into a home wall outlet (120V). We recommend attaching it to a surge protector to turn on and off as well as to protect it. Each machine also has adjustable castors with felt to level it out on your countertop.
Dimensions: 25″W x 16″D x 26″H (Approx. 45 pounds)
Shipping: Pick-up in Coatesville, PA. FLAT $275 FOR SHIPPING ANYWHERE IN THE USA.
Artwork Options: Street Fighter, Teenage Mutant Ninja Turtles (TNMT), The Simpsons, Mario Brothers, X-Men, and Neo Geo