Cocktail Arcades: 60-412 Games
We here at ecAmusements have a variety of brand new bar top arcade machines in stock on a regular basis. We have each brand new bartop Jamma wired cabinet CNC cut and assembled with all new parts. Whether you like the original Street Fighter, Tetris, X-Men or others we have the right one for you. All of our games have new artwork installed. Check out our current inventory below! If you have any other questions feel free to CONTACT US with and questions you may have! Our direct line is: 484-433-5145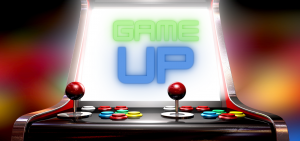 Jamma wired cabinet capable of plug and play 60 classic arcade jamma
CLICK HERE FOR 60 GAME LIST 
Upgraded jamma wired cabinet capable of plug and play 412 arcade jamma
CLICK HERE FOR 412 GAME LIST 
These arcade machines have a 17″ LED monitor installed. We offer 412 game board Jamma wired cabinets for an additional $200. It has a BRAND NEW JOYSTICK, BUTTONS (color MAY vary), JAMMA WIRING HARNESS, POWER SUPPLY, and SMOKED PLEXIGLAS! This machine is set up for free play.
This is the small footprint arcade machine you have always wanted that will not take up much space at all! Great for home entertainment, also good for bars, cafes, and many other places! A must have for every game room/ man cave! Please use the images for additional details.
Dimensions: 34″W x 22″D x 28″H (Approx. 45 pounds)
Shipping: Pick-up in Coatesville, PA.